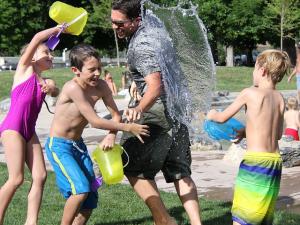 Well, school is out for most kids now and the long, lazy days of summer will begin.  But, it doesn't necessarily have to mean that their brains turn off! Yes, there are some activities kids can do during the summer months that are actually fun and educational!  So here are some ideas to motivate and inspire your kids this summer – don't miss this opportunity to get them engaged.
 
1. Cook!  Yes, it can be done. Simple recipes will get kids creating yummy dishes that will please the whole family. Kids will learn about nutrition, different cultures (based on the variety of recipes from around the world), measuring, sequencing, observing, and responsibility.  On top of all that, it gives children a sense of initiative and accomplishment. Here are a few recipes to get them started…
 
Pita bread pizzas -
http://mideastfood.about.com/od/appetizerssnacks/r/pitapizza.htm
Easy cupcake brownies –
http://www.kidspot.com.au/kitchen/recipes/3-ingredient-nutella-brownies-3650
Fruit salad –
https://www.foodhero.org/recipes/magical-fruit-salad
 
2.  Plan a family trip!  This means allowing your child to be involved in deciding the where, when, why, and how of the trip.  For example, invite your child to think about the place (based on where your family is able to travel) and show your child a map.  Talk about where you will stay (ex. hotel, camper, etc…), what things you will see (for ex. lake, museum, zoo), when you will travel and for how long.  Depending on the age of your child, you could also discuss the cost of the trip.  All of these questions require critical thinking and help children learn the practical side of math, geography, and social studies, for instance, because the planning is meaningful to them and real-life.
 
3.  Plant a garden! This is a wonderful way to get your child outdoors and learning about science. It also teaches that patience and hard work produces results like beautiful flowers and fresh vegetables!
 
This website will give you some ideas for different types of gardens for children.
 
http://www.kidspot.com.au/things-to-do/collection/gardening-for-kids
 
4.  Exercise!  Physical fitness is very important for children especially in this day and age when technology has somewhat made us into "couch potatoes."  What better way to have fun and be healthy than to get moving!
 
Check out these exciting websites for some fitness games and aerobics for kids.
 
http://jumpbunch.com/kids-click-here/fitness-games/
https://www.youtube.com/watch?v=6LndXdPdKaQ
https://www.youtube.com/watch?v=k2hBMkZuvP8
 
All of these ideas are so amazing for children because they inspire kids to move, plan, and create through meaningful activities which will provide them an education of life-skills and critical thinking that will be useful throughout their lives.  Furthermore, it provides a chance for families to bond when these activities are done together.  So don't let this summer just slip away, get up and get busy with these super fun ideas!